Solar battery storage refers to a device that is charged using a solar system. It helps in reserving energy for later use during emergencies. Usually, the stored energy is consumed after the sun goes down, i.e., when the solar panel cannot function. Some households also prefer to consume it when the demand for energy is at its peak. Currently, the Australian market is offering different storage battery options to its customers, and the prices are also becoming less.
With the rise in the price of electricity, there is a significant drop in the price market of batteries. Therefore, it is a beneficial deal to purchase your solar battery storage system with your solar panels. It is among the most cost-effective and smart investments that any individual can make. In this blog, we will highlight the importance of having a storage battery system so that you can take advantage of the amazing offer.
Benefits of purchasing solar battery storage along with solar panels
The use of solar panels in Australian households has increased rapidly over the years. If you still have not purchased the panel, but are planning to do so, then think about getting solar battery storage as well. By investing in both the products together, you can get the benefit of:
Boosting your savings on energy and electricity.
Provide yourself motivation by positively influencing the environment and promoting clean energy.
Utilizing almost the entire amount of solar power you generate reduces your dependence on energy companies.
Spending less amount of money. By getting your battery and panels together, you will be free of the extra installation charges for each of them individually. Apart from that, purchasing both of them in the current market will prove to be useful due to the reduction in their prices.
Benefits of having a solar battery storage system 
Installing solar panels will guarantee electricity generation as long as the sun is shining. However, the solar panels will become obsolete during sundown or sudden blackouts. Therefore, solar battery storage gives you higher electricity security for your households. Apart from that, there are various benefits of battery storage. They include: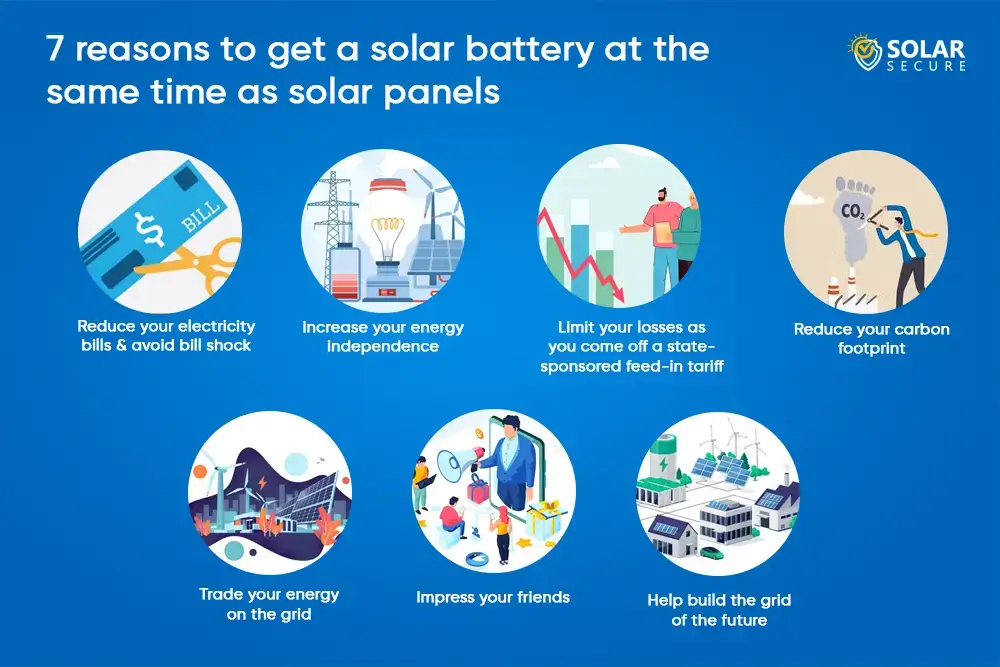 Reduce your electricity bills & avoid bill shock

Home batteries are a one-time investment, you get the benefit of reducing your electricity bills by a significant amount. If the solar system placed on your roof is big and has enough capacity for a battery, then you can easily eliminate the concept of a consumption charge.Consumption charge refers to an area of the electricity bill that talks about the units of electricity used by a household. However, by eliminating that, the costs can be reduced. Apart from the deduction of consumption charge, you can also keep a tab of your household's electricity consumption throughout the day. It is quite effortless to do so, and you just need to be attentive.

By creating such an awareness using your monitoring skills, you can remain at the top of your consumption habits. Consequently, you won't need to pay an extreme amount of electricity bill or have a panic attack by witnessing an outrageous bill amount since everything will be under your control.

Increase your energy independence

People often don't prefer to depend on the grid electricity for their daily household usage. So, if you are among one of those people, then batteries are ideal for you. Solar panels are helpful, but they have a drawback, i.e., you need to consume the generated energy while they are being produced; otherwise, they are sent off to the grid. However, with batteries, you get the independence of controlling your energy consumption as per your preference.

By using them, you get the benefit of keeping your produced electricity for a longer period within your household. There are certain battery storage systems available that provide excess benefit by allowing you to use energy when the grid is down. The grid energy will provide the exact same use as your solar battery energy, but the latter still feels cool.

Limit your losses as you come off a state-sponsored feed-in tariff

Various households within Australia came off of their state-sponsored feed-in tariff incentives. As a result, these households will face sudden changes since the value of their excess exported solar energy to the grid will drop significantly. Therefore, by installing a solar battery, you can help your household by reducing the grid's energy flow and holding back on the losses.

Reduce your carbon footprint

The area where you reside in Australia determines the mix of electricity generation from the grid. It differs according to the area. For example, NSW and Queensland rely on coal-fired generation while Tasmania depends on hydropower. Therefore, to reduce your carbon footprint during such a situation, one of the best ways is to install solar battery storage.Generate your own energy and store it in the batteries. If you are residing in NSW or Queensland, then the opportunity for reducing carbon footprint is high since they use inefficient brown coal for the generation of energy.

Trade your energy on the grid

The industry of solar home battery storage is developing at a rapid pace. The electricity companies and retailers are looking for ways to harness batteries so that the wholesale market price of electricity reduces.

Battery storage can earn premium rates for the stored energy that they export to the grid during the appropriate time. Consequently, the investment you make on your battery will be tipped, and you may even become a popular energy trader.

Impress your friends

By installing solar battery storage in your household, you have the opportunity to become the talk of the town. The concept of battery storage is extremely cool and futuristic, and by having it in your household, you will automatically become cool as well.

You can talk about it to the people surrounding you and even encourage them to get their own battery storage. Impress your friends and colleagues by having the latest technology at your home and show them how much you know about energy conservation and solar electricity generation.

Help build the grid of the future

Similar to the rise in solar panels, battery storage systems are also anticipated to rise. As per information, the Australian market will have an immense increase in the installation of solar battery storage. As a result, the nation of Australia will need to change in the way they manage its electricity generation and distribution.

The Australian households will determine the grid of the future since they will not only consume grid energy but will also supply grid energy. Therefore, the installation of battery storage might give you the opportunity of shaping the future.
Takeaway
Keeping solar batteries in your household is an amazing choice since it provides fascinating benefits. Purchasing a system in the current market will be extremely beneficial since the prices are low. Therefore, if you are still in doubt regarding the purchase of solar battery storage, then consider the benefits of the system, and you will automatically comprehend the importance of having one.